What are the nutrition facts of Echelon?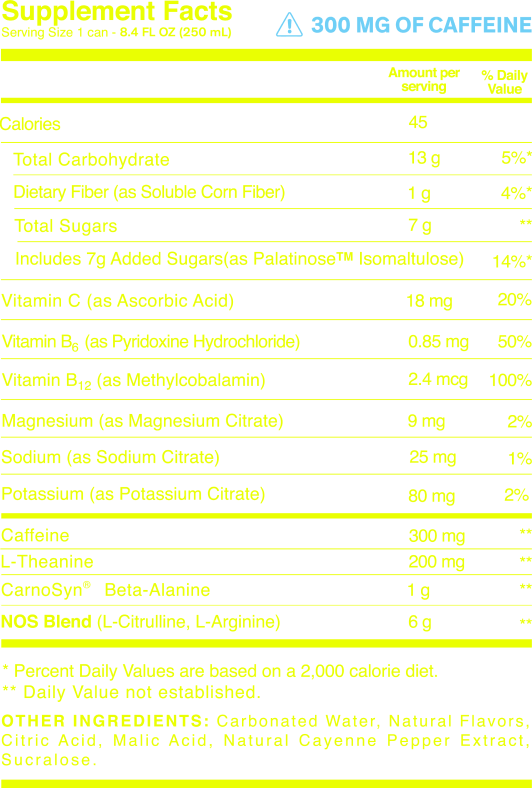 What is Echelon?
Echelon is a performance-energy drink developed with U.S. Military service members. It's a proprietary blend of highly potent active ingredients that deliver amplified performance and sustained energy with a clean burn.
Where can I find Echelon in stores?
Echelon is available on US military bases worldwide and on Amazon Prime.
When should I drink Echelon?
Echelon is best-consumed within the hour before exercise.
Can I drink too much Echelon?
You should not drink more than one Echelon daily, as the FDA recommends no more than 400mg of caffeine per-day (Echelon contains 300mg).
Is it dangerous to mix alcohol with Echelon?
We do not recommend mixing alcohol with Echelon.
I experienced tingles in my fingers and toes when I drank Echelon. Is this normal?
What you're feeling is something called paresthesia: a tingling sensation that happens as the body catalyzes beta-alanine. It means Echelon is working!
Is Echelon safe for everyone?
You should not drink Echelon if you're sensitive to caffeine, under the age of 18, pregnant or breastfeeding.
What does Echelon taste like?
Echelon tastes like power: Very bold, juicy and spicy.
Is Echelon sugar-free?
Echelon is lightly sweetened with isomaltulose (a low-glycemic carbohydrate) and negligible amounts of sucralose, a zero-calorie sugar.
Is Echelon zero calories?
Echelon is 40 calories, which comes from the combination of isomaltulose and fiber.
Why is there sucralose in Echelon?
We use minimal levels of sucralose for sweetness modulation.  We never use high heat to ensure there's no breakdown of compounds during production, resulting in a pure and harmless form. We added fiber and isomaltulose to effectively balance the sugar breakdown.
How much caffeine is in Echelon?
300mg of caffeine, equivalent to about three cups of coffee.
Why is Echelon spicy?
Echelon has a natural hint of spice from capsaicin, an active extract from chili peppers that studies show can help boost your metabolism by increasing energy expenditure, and regulating blood-sugar levels.
Is Echelon sodium-free?
No. Echelon is formulated with an Electrolyte blend that includes sodium (1% of recommended daily intake), magnesium, and potassium, all of which are essential for hydration.
Is Echelon packaging recyclable?
Yes. Aluminum is 100% infinitely recyclable material. We've chosen aluminum because it's one of the most sustainable materials available–70% of all aluminum ever made is still in circulation today. Please remove the label and recycle your cans. 
Is Echelon vegan?
Yes. Echelon does not contain any animal-derived ingredients.
How is the military involved with Echelon?
Over the past two years, our community of 2,000+ U.S. Military service members and veterans formulated, iterated and developed Echelon with us. Echelon was created to deliver a performance in line with their specific needs, whether it's rigorous training, mental acuity and general motor performance. These individuals, representing all branches of service and deployment environments, actively participated in both qualitative and quantitative insight for our R&D team to design the final product. In addition, 40% of our internal team are veterans with high-performance fitness regimens and were all deeply involved in product development. 
We've also partnered with the Green Beret foundation, an organization that provides Special Forces Soldiers and their families with emergency, immediate, and ongoing support. We donate a percentage of each sale back to the foundation to support Green Berets and other Special Forces Soldiers.
Is Echelon available at The Exchange?
Yes. You can also find us online at shopmyexchange.com
I want to be involved in testing and/or promoting products. Who do I reach out to?